Glenholme Consulting has developed methodologies that can be adapted to different organisational situations and business requirements.  Our methodologies are supported by templates and documentation to facilitate their adoption during and following a consulting assignment.
On the Supply Side
Glenholme Consulting has developed The Super-7 Model. The methodology takes the 7 key areas of a Service Proposition – and through consultation with the client – prepares the service for market. The Super-7 Model maximizes the prospects for success when responding to competitive tenders, and will improve contract win ratios.
On the Demand Side
For large organisations, outsourcing a significant part of a client's business presents both opportunities and risks. The diagram below demonstrates how client priorities change over time: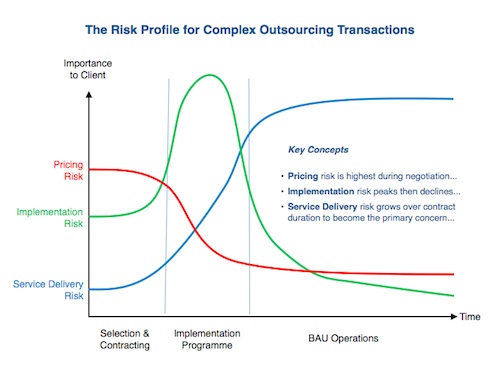 At the outset, Pricing risk is the most important factor as transaction financials drive the business case. Pricing is soon fixed and adjustors are agreed, budgets are reset etc, and so pricing becomes less important over time. Implementation risk then follows pricing as the priority until the solution goes live. Over the long term however, Service Delivery risk becomes the most important factor in the commercial relationship.
Glenholme Consulting has distinct methodologies to mitigate risks at each stage of the transaction life-cycle:
Mitigation of Pricing Risks
Pricing risks are mitigated using our Gateway-Driven Sourcing Methodology.  Key features of our methodology are:
Assurance – that the terms agreed with the supplier are competitive, and that a high quality Service Level Agreement (SLA) is agreed.
Flexibility – thus enabling progress at a pace that the business requires.
Scaleable – from SMEs to the largest organisations – across both the private and public sectors.
Gateway-Driven – to ensure that a governance record is maintained regarding which decisions were made – when, why, by whom.
Mitigation of Implementation Risks
The Commercial Construct for Projects mitigates the associated risks of a partner-driven integration or transition programme.  Built into the contract from the outset, the Commercial Construct for Projects includes pre-defined actions and mitigating steps for issues that will inevitably arise.
The methodology can also be used to measure and manage internal service delivery functions such as IT Operations.
Mitigation of Service Delivery Risks
Where service delivery is crucial to the success of servicing a client, Glenholme Consulting has developed our Service Delivery Optimisation methodology. The methodology is a scenario-based approach that can be used as part of a partner selection process during contract negotiations, to benchmark SLAs, or to measure performance over the entire contract duration.